Welcome
to the Estate Planning Council of Seattle's website. One of the primary missions of our organization is to inform the public on estate planning matters and issues that confront us all. Our website gives you access to unbiased information about estate tax planning strategies, wills, trusts, business succession and other topics that impact your personal estate plan.

The Council is composed of local attorneys, CPAs, trust officers, insurance professionals, financial planners and members of the planned giving community whose professional careers have all been centered around helping individuals achieve their estate planning goals. Through our site you can access any of our professionals. More importantly, you can access resources that can be helpful to you as you work through these complex issues. We are pleased to provide this as a service to the local community and appreciate any feedback you may want to provide.
The recording of the May 3 "Top 10 Things Everyone Needs to Know About Estate Planning" is available in video and audio-only formats.
To download the files, click (or copy to browser address bar) the link below.
If you want to save the file for use on a portable device, look for Save as (or similar command) in the File or context (right-click) menus.
https://files.law.washington.edu/open/Top_10_Things_Everyone_Needs_to_Know_About_Estate_Planning/Default.aspx
The recording with "HiRes" in the file name is 2.22 GB (high resolution), while the standard recording is about 734 MB.
The recording will be available for 90 days ONLY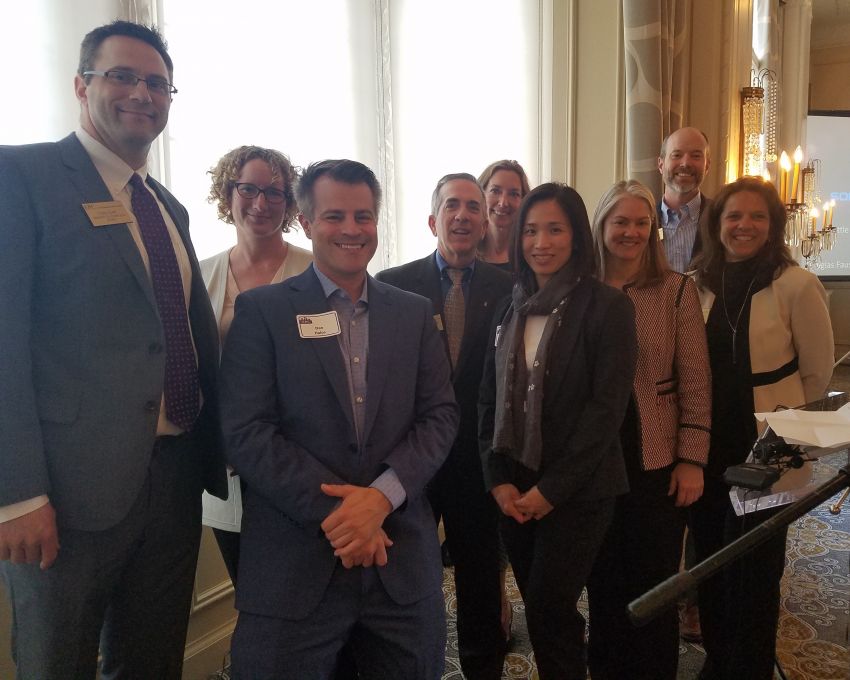 2018-2019 Executive Committee installed at May Dinner Meeting. Left to right, Ford Clary, Lori Rath, Dan Halos, Ron Nagle, Margaret Liu, Kathryn Garrison, Jolene Cox, Carla Wigen and Steven Schindler.
---
Estate Planning Council of Seattle is affiliated with the National Association of Estate Planners & Councils and joining can fulfill the requirement of belonging to an affiliated local estate planning council to become an Accredited Estate Planner® (AEP®) designee. Please contact the national office at 866-226-2224 to learn more about the Accredited Estate Planner® designation.