Welcome
To the Estate Planning Council of Seattle's website. One of the primary missions of our organization is to inform the public on estate planning matters and issues that confront us all. Our website gives you access to unbiased information about estate tax planning strategies, wills, trusts, business succession and other topics that impact your personal estate plan.

The Council is composed of local attorneys, CPAs, trust officers, insurance professionals, financial planners and members of the planned giving community whose professional careers have all been centered around helping individuals achieve their estate planning goals. Through our site you can access any of our professionals. More importantly, you can access resources that can be helpful to you as you work through these complex issues. We are pleased to provide this as a service to the local community and appreciate any feedback you may want to provide.
This website is intended to help you find qualified professionals, informative articles, and other resources related to estate planning. For example, you will be able to link to other sites providing more information about our members and the services they offer by clicking on the member directory. Please browse at your pleasure; be aware however, that certain links are reserved for members only and require password access.
SEPTEMBER 2019 DINNER MEETING HANDOUT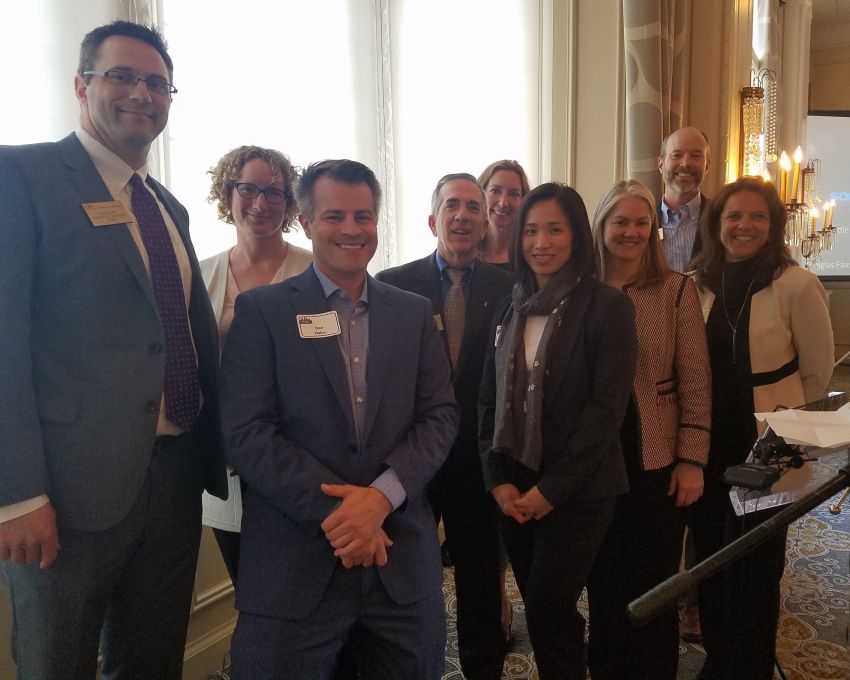 2018-2019 Executive Committee installed at May Dinner Meeting. Left to right, Ford Clary, Lori Rath, Dan Halos, Ron Nagle, Margaret Liu, Kathryn Garrison, Jolene Cox, Carla Wigen and Steven Schindler.
Special Notice...
The Estate Planning Council of Seattle offers this site for informational purposes only, to provide a better understanding of estate planning, and to further the education of our members and the general public in the field of estate planning. The contents of this site are not intended as legal, tax, accounting or other professional advice or services and is presented without any representation or warranty as to the accuracy or completeness of the information. All uses of this website, other than personal uses, are prohibited. The information on this site is subject to change without notice, and you may not rely upon any such information with regard to a particular matter or set of facts. You should not act or refrain from acting on the basis of any content included in this site without seeking the appropriate legal or professional advice on the particular facts and circumstances. ALL INFORMATION IN THIS SITE IS PROVIDED "AS IS", WITH NO GUARANTEE OF COMPLETENESS, ACCURACY, TIMELINESS OR OF THE RESULTS OBTAINED FROM THE USE OF THIS INFORMATION, AND WITHOUT WARRANTY OF ANY KIND, EXPRESS OR IMPLIED, INCLUDING, BUT NOT LIMITED TO WARRANTIES OF PERFORMANCE, MERCHANTABILITY AND FITNESS FOR A PARTICULAR PURPOSE. In no event will The Estate Planning Council of Seattle, its agents, officers, directors, or employees be liable to you or anyone else for any decision made or action taken in reliance on the information in this Site or for any consequential, special or similar damages, even if advised of the possibility of such damages. Links to information on other sites are for your convenience only and are not an endorsement or recommendation of those sites.
---
Estate Planning Council of Seattle is affiliated with the National Association of Estate Planners & Councils and joining can fulfill the requirement of belonging to an affiliated local estate planning council to become an Accredited Estate Planner® (AEP®) designee. Please contact the national office at 866-226-2224 to learn more about the Accredited Estate Planner® designation.