February 2017 Dinner Meeting
Date:
Wednesday, February 15, 2017
Location:
The Rainier Club, Seattle WA
Speaker:
Richard S Franklin, JD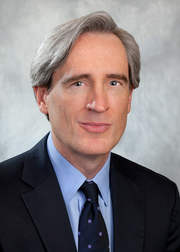 Topic: Preserving Family Capital Through Generations
This program will suggest that families should be actively engaged in preserving family wealth through the generations as a means of the family's long-term financial support, and that this endeavor will be useful beyond that important end. In an evolved society, providing financial security to your family can be a means of enabling them to operate on a higher level. Richard will push back on "limited inheritance" strategy to motivate descendants to be productive and engaged. According to Richard, "if your best idea to achieve this fine goal is a negative act, then you just have not thought enough." He will provide a framework and strategies to employ in this effort that are positive and inclusive.
Speaker: Richard S. Franklin, JD, McArthur Franklin, Washington DC
Richard focuses on estate planning, trusts and estate administration. He is a member of the District of Columbia and Florida Bars, is a Fellow of the American College of Trust and Estate Counsel. He is Group Vice-Chair of the ABA RPTE Section's Income and Transfer Tax Planning Group and is a member of ACTEC's Transfer Tax Study Committee.